From Tanvi Misra:
We know that the racial identity of the average American is changing, and with this demographic shift comes monumental political consequences. We already witnessed the effects of this in the 2008 presidential election, for example, when young and minority voters carried Barack Obama to victory. That year, it seemed, a switch flipped in favor of the Democratic party. And if voting preferences and turnout trends continue as they have been in the past seveal elections, America's increasingly diverse electorate isn't going to make it easy to flip this switch back.
That's according to a comprehensive new report put together by the American Enterprise Institute, the Brookings Institution, and the Center for American Progress. In it, authors Ruy Teixeira, Rob Griffin, and William Frey simulate six possible scenarios based on past voting patterns and project a range of outcomes for the presidential election this year, and subsequent ones through 2032.
"If nothing changes, in terms of party strategies and party appeals, I think it's a fair statement to say…that [demography] favors the Democrats," Teixeira said at a panel discussion about the report this week. "What it means is that all else cannot remain equal, because I don't really believe that the parties are going to remain static. Demography is not destiny in the sense that it pre-ordains certain kinds of outcomes. It pre-ordains certain kinds of shifts in strategy."
Trends that help and hurt the Democrats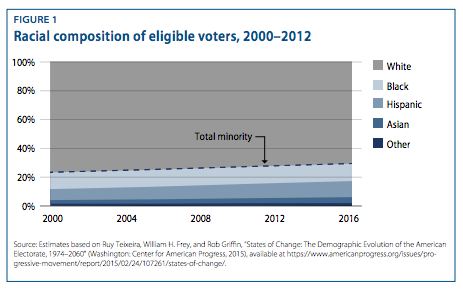 The electorate that voted for President Obama in 2012 looked significantly different from the one that elected George W. Bush for his first term at the beginning of the century. In 2012, the share of minorities among eligible voters was 29 percent, up from 23 percent in 2000 (above). If that doesn't seem like a significant difference, consider this: In 2000, only eight states and the District of Columbia had higher than a 30 percent share of minority voters; In 2012, the number of such states grew to 17 (plus D.C.). With each election year, non-white political clout is strengthening, in some states more than others.